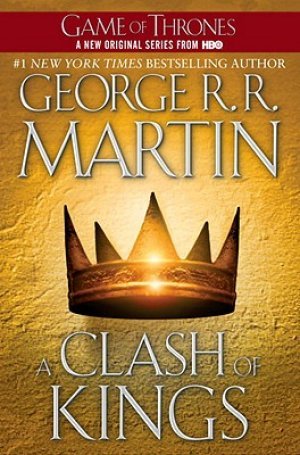 Ratings : 655038
Review : 21384
---
Published : May. 28, 2002
By : Bantam
Language : eng
Paperback : 761 Pages
Published : May. 28, 2002
By : Bantam
Language : eng
Paperback : 761 Pages
A Clash of Kings (A Song of Ice and Fire, #2)
655038 Ratings
-
21384 Review
Alternate cover edition can be found here.


Time is out of joint. The summer of peace and plenty, ten years long, is drawing to a close, and the harsh, chill winter approaches like an angry beast. Two great leaders—Lord Eddard Stark and Robert Baratheon—who held sway over an age of enforced peace are dead...victims of royal treachery. Now, from the ancient citadel of Dragonstone to the forbidding shores of Winterfell, chaos reigns, as pretenders to the Iron Throne of the Seven Kingdoms prepare to stake their claims through tempest, turmoil, and war.

As a prophecy of doom cuts across the sky—a comet the color of blood and flame—six factions struggle for control of a divided land. Eddard's son Robb has declared himself King in the North. In the south, Joffrey, the heir apparent, rules in name only, victim of the scheming courtiers who teem over King's Landing. Robert's two brothers each seek their own dominion, while a disfavored house turns once more to conquest. And a continent away, an exiled queen, the Mother of Dragons, risks everything to lead her precious brood across a hard hot desert to win back the crown that is rightfully hers.

A Clash of Kings transports us into a magnificent, forgotten land of revelry and revenge, wizardry and wartime. It is a tale in which maidens cavort with madmen, brother plots against brother, and the dead rise to walk in the night. Here a princess masquerades as an orphan boy; a knight of the mind prepares a poison for a treacherous sorceress; and wild men descend from the Mountains of the Moon to ravage the countryside.

Against a backdrop of incest and fratricide, alchemy and murder, the price of glory may be measured in blood. And the spoils of victory may just go to the men and women possessed of the coldest steel...and the coldest hearts. For when rulers clash, all of the land feels the tremors.

Audacious, inventive, brilliantly imagined, A Clash of Kings is a novel of dazzling beauty and boundless enchantment;a tale of pure excitement you will never forget.
ABOUT George R.R. Martin
George R.R. Martin was born September 20, 1948, in Bayonne, New Jersey. His father was Raymond Collins Martin, a longshoreman, and his mother was Margaret Brady Martin. He has two sisters, Darleen Martin Lapinski and Janet Martin Patten.

Martin attended Mary Jane Donohoe School and Marist High School. He began writing very young, selling monster stories to other neighborhood children for pennies, dramatic readings included. Later he became a comic book fan and collector in high school, and began to write fiction for comic fanzines (amateur fan magazines). Martin's first professional sale was made in 1970 at age 21: "The Hero," sold to Galaxy, published in February, 1971 issue. Other sales followed.

In 1970 Martin received a B.S. in Journalism from Northwestern University, Evanston, Illinois, graduating summa cum laude. He went on to complete a M.S. in Journalism in 1971, also from Northwestern.

As a conscientious objector, Martin did alternative service 1972-1974 with VISTA, attached to Cook County Legal Assistance Foundation. He also directed chess tournaments for the Continental Chess Association from 1973-1976, and was a Journalism instructor at Clarke College, Dubuque, Iowa, from 1976-1978. He wrote part-time throughout the 1970s while working as a VISTA Volunteer, chess director, and teacher.

In 1975 he married Gale Burnick. They divorced in 1979, with no children. Martin became a full-time writer in 1979. He was writer-in-residence at Clarke College from 1978-79.

Moving on to Hollywood, Martin signed on as a story editor for Twilight Zone at CBS Television in 1986. In 1987 Martin became an Executive Story Consultant for Beauty and the Beast at CBS. In 1988 he became a Producer for Beauty and the Beast, then in 1989 moved up to Co-Supervising Producer. He was Executive Producer for Doorways, a pilot which he wrote for Columbia Pictures Television, which was filmed during 1992-93.

Martin's present home is Santa Fe, New Mexico. He is a member of Science Fiction & Fantasy Writers of America (he was South-Central Regional Director 1977-1979, and Vice President 1996-1998), and of Writers' Guild of America, West.

http://us.macmillan.com/author/george...